The History of Connie's Cakes
Connie Hennip and Wanda Faber, two sisters who enjoyed making and decorating cakes at Family Fare, decided to enter into a partnership and opened Connie's Cakes -n- Crafts in 1995. They specialized in baking and decorating wedding cakes as well as cakes for other occasions. After 15 years in business Connie decided to retire from the business side of the operation. Connie's niece, Mary Scheidel purchased the business in early 2010 and renamed it Connie's Cakes, LLC. While the ownership may have changed the same great cakes, iced in the original buttercream, are still available. In January 2013 Connie's Cakes moved into their new location at 1416 Robinson Road in the historic Kingsley Building in the Eastown neighborhood of Grand Rapids.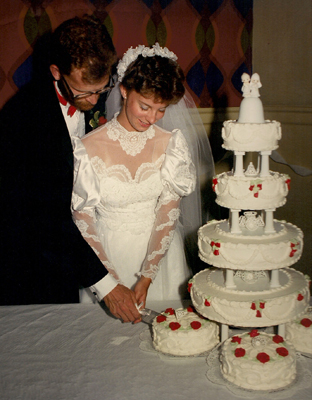 Tom and Mary Scheidel (the current owner of Connie's Cakes) were married on June 14, 1986. Connie made their wedding cake.
Let's Get In touch
We create cakes for weddings and other occasions. If you are getting married please contact us to set up your free consultation appointment.